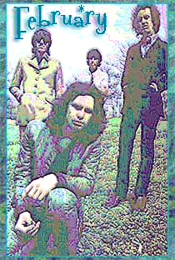 THE FOLLOWING EVENTS TOOK PLACE ON FEBRUARY 9

1874 - Poet Amy Lowell is born in Brookline, Massachusetts, the daughter of a prominent Boston family. One brother became president of Harvard University and another was a distinguished astronomer. She wrote her first serious poem at 28 after seeing a performance by the actress Eleanora Duse. She gave readings and lectures all over the country, telling reticent audiences, "Well, clap or hiss, I don't care which, but for Christ's sake, do something!" She was a large, outspoken woman who liked cigars, dogs and detective stories. She was intrigued by the Imagist movement in poetry — Ezra Pound referred to her followers as "Amygists." When her brother was president of Harvard, he got a call from an auto mechanic saying, 'Some big, fat dame whose engine broke down wants to charge the bill to you — claims she's your sister. She's across the road, sittin' on a stone wall, smokin' a cigar.' The president of Harvard said, 'That's my sister, all right.'

1881 - Russian novelist Fyodor Dostoevesky dies.

1911 - In England readers of the Morning Post are regaled by an anonymous review of The White Peacock which poses the question, "What is the sex of D. H. Lawrence?"



1923 - It's the birthday of writer and playwright Brendan Behan, born in Dublin, Ireland, into a working-class family. His father was a Republican activist; his uncle wrote the Irish national anthem. Behan was arrested for activities connected to the IRA, and sentenced to an English borstal, or reform school—an experience he later recounted in his autobiographical novel, Borstal Boy (1958). His first play, The Quare Fellow, is set in a prison. It was rejected by both the Abbey and the Gate theaters before being staged at the experimental Pike Theater, to great acclaim. Behan is remembered for the quote: 'I've never seen a situation so dismal a policeman couldn't make it worse.'





1924 - Venerable blues fellow Slim Harpo is born James Moore in Lobdell, La.






1926 - Ernest Hemingway delivers the manuscript of The Torrents of Spring, to his publisher, Boni & Liveright's, in New York. When they refuse to publish it, he is free to take it to Max Perkins at Scribner's. This was a calculated plan by Perkins, Fiztgerald, and Hemingway to bring Hemingway to Scribner's.



1939 - Songwriter Barry Mann, who with his wife, Cynthia Weill, wrote such pop classics as On Broadway and You've Lost That Lovin' Feeling, is born in Brooklyn, N.Y.




1940 - Popular R&B singer Smokey Robinson is born.






1942 - Singer/songwriter Carole King [Klein] is born in Brooklyn, NY.



1950 - Wisconsin Republican senator Joseph McCarthy makes his first speech saying that the United States State Department was infested with Communists.


1958 - A report of the American Research Bureau cites Dick Clark's American Bandstand as the top-ranked daytime television program, drawing an average of 8,400,000 viewers per day.




1960 - The Hollywood Walk of Fame gets its first star - for actress Joanne Woodward.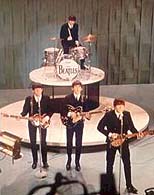 1964 - The Beatles make their first appearance on The Ed Sullivan Show, drawing the largest ever U.S. television audience. It's estimated that 73 million people tuned in to watch the band peform five songs including their current hit, I Want To Hold Your Hand. Also performing on the show is future Monkee Davy Jones as part of the cast of Oliver.



1976 - Today's No. 1 Billboard Pop Hit is 50 Ways to Leave Your Lover, by Paul Simon. The song is Simon's first No. 1 single since ending his 13-year partnership with Art Garfunkel in 1970.




1981 - Bill Haley dies of natural causes in Harlingen, Texas. He was one of the first white performers to play R&B and began working the roots of rock & roll in the early fifties. In 1954, he and the Comets released his most famous song, "Rock around the Clock," which did not do well commerically. Bill Haley was 56 years old.




For more day-by-day history go to HistoryUnlimited.net