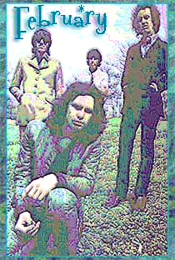 THE FOLLOWING EVENTS TOOK PLACE ON FEBRUARY 6

1564 - English playwright Christopher Marlowe is born in Canterbury, England. He was Shakespeare's chief rival, until his death at twenty-nine. Marlowe's death occured under suspicious circumstances, in a tavern in Deptford. But in his short life he produced three great plays - Tamburlaine the Great (1587), The Tragical History of Doctor Faustus (about 1587), and The Jew of Malta (about 1589). He was a friend of Sir Walter Raleigh, who may have recruited him as a spy for the government of Queen Elizabeth the First. The three men who were with him when he died were all known spies, one of them a double agent. The men allegedly argued with Marlowe over the tavern bill, an argument that ended when Marlowe was fatally stabbed in the skull. In addition to his plays, Marlowe is known for his poem The Passionate Shepherd to his Love: Come live with me, and be my love,/And we will all the pleasures prove…

1868 - Thomas Nast's depiction of Uncle Sam with whiskers first appears in print in Harper's Weekly.

1902 - Lawyer Louis Nizer, who defended blacklisted stars in the '50s, is born.



1932 - Celebrated French filmmaker Francois Truffaut is born in Paris. His parents didn't want him around, and he spent his childhood with his grandmother, forgetting his loneliness through books and movies. He estimates that he watched about two thousand movies between his tenth and fifteenth birthdays. He and a friend formed a cinema-club, and he became a writer for the French film magazine Cahiers du Cinéma. His first feature film, The 400 Blows, was followed by Shoot the Piano Player, Jules and Jim, and many others.

1943 - Having left the Tommy Dorsey Band four months prior, Frank Sinatra makes his vocalist debut on the radio show, Your Hit Parade.

1959 - Fidel Castro is interviewed on Person to Person by Edward R Murrow.



1964 - Tickets to the Beatles' first appearance on The Ed Sullivan Show sell out.


1974 - The House of Representatives approves an impeachment inquiry against Richard Nixon.

1987 - Sonny Bono declares his candidacy for mayor of Palm Springs.





1998 - Carl Wilson, one of the founding members of the Beach Boys, dies from complications of lung cancer. Wilson, 51, who had been battling the disease for nearly a year dies in Los Angeles with his family reportedly by his side.





For more day-by-day history go to HistoryUnlimited.net