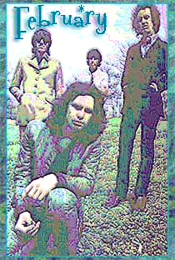 THE FOLLOWING EVENTS TOOK PLACE ON FEBRUARY 5


1897 - Marcel Proust meets Jean Lorrain in a pistol duel precipitated by a slanderous article Lorrain has written about Les Plaisirs et les Jours.

1901 - The loop-the-loop centrifugal railroad, now known as the roller coaster, is patented by Ed Prescot.

1906 - John Carradine, who played Preacher Casey in the 1940 film of Steinbeck's The Grapes of Wrath and was the patriarch if the Carradine acting family, is born. He was known as the Bard of the Boulevard for his tendency to recite Shakespearean soliloquies as he walked.




1914 - William Seward Burroughs is born into the Burroughs Business Machines Dynasty of St. Louis. Beloved elder of the Beat Generation, his first novel, Junky: Confessions of an Unredeemed Drug Addict (1951), was followed by Naked Lunch (1959) and many others, including Queer (1985).


1937 - The first Charlie Chaplin talkie, Modern Times, is released.


1942 - Cory Wells of Three Dog Night is born in Buffalo, N.Y.




1944 - Session guitarist turned blues organist Al Kooper is born in Brooklyn, N.Y..

1959 - Isak Denisen, subject of the film Out of Africa, who is living in Nyack, New York, invites Arthur Miller and his wife Marilyn Monroe to lunch. Joining them is the Georgia-born author Carson McCullers. Denisen and Monroe perform an impromptu dance on the luncheon table afterwards.




1967 -The Smothers Brothers Comedy Hour premieres on CBS-TV.


1967 - The British tabloid, News of the World, runs the headline "Pop Stars and Drugs - Facts that Will Shock You." The story reports on LSD parties put on by the Moody Blues and attended by Pete Townsend, Ginger Baker and others. The story quotes Mick Jagger admitting to having used LSD, and claims Jagger took Benzedrine tablets and displayed a quantity of hashish while in the reporter's company. That afternoon, Jagger says his lawyers will file of writ against the tabloid. It's revealed that the "News" reporter overheard Brian Jones talking about drugs in a London disco and mistook him for Jagger. The suit starts a fued between the tabloid and the band which leads to a police raid on Keith Richards' home five days later.

1970 - This is the first night of the Doors' final two performances at the Winterland Arena, and they go exceptionally well. Robbie's guitar work is gutsy and primitive, and Jim unleashes his full potential in navigating the aural spectrum from gentle whispers to deafening screams.





1994 - Medgar Evers' murderer Byron De La Beckwith is sentenced to life in prison in Jackson, Mississippi, 30 years after the crime.





For more day-by-day history go to HistoryUnlimited.net