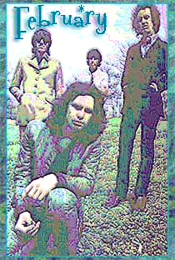 THE FOLLOWING EVENTS TOOK PLACE ON FEBRUARY 21



1173 - Pope Alexander III canonizes Thomas Becket, Archbishop of Canterbury. Becket had been martyred three years earlier on orders of English King Henry II, a former friend, until Becket was elevated to Archbishop in 1162. The saint is the "holy blisful martyr" that Chaucer's pilgrims are going to pay homage to in The Canterbury Tales.

1431 - The English occupying France begin their witchcraft trial against Joan of Arc.






1810 - One of the greatest of all composers for the piano, Fréderic Chopin, is born in Poland. He will live most of his life in France, including 9 years as the live-in lover of writer Aurore Dupin (George Sand).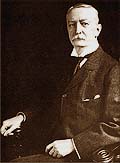 1821 - Publisher Charles Scribner is born in New York City. With Isaac Baker he founded the publishing firm of Baker and Scribner, which became Charles Scribner's Sons in 1878. The firm published such prominent American authors as F. Scott Fitzgerald, Edith Wharton, Ernest Hemingway, and Thomas Wolfe.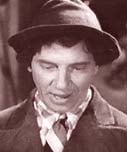 1891 - Leonard "Chico" Marx of the Marx Brothers (A Night at the Opera, Animal Crackers) is born in New York City. His nickname was earned by his proclivity to skirt-chasing.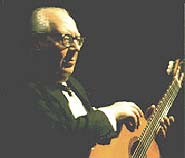 1893 - Classical guitar master Andrés Segovia is born in Linares, Spain.



1879 - F.W. Woolworth begins his empire with his first five-and-dime store in Utica, New York.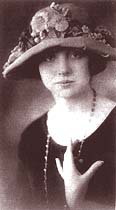 1903 - Writer and diarist Anaïs Nin is born in Neuilly, France. Nin is probably most famous for writings that were never intended for public viewing. During her lifetime, Nin wrote more than thirty-five thousand pages of diaries, spanning the years from 1914 to 1974. Even though she had published essays, criticism, and fiction since the 1930s, she came to literary prominence in America in 1966 when the first volume of her diary was published. She had passionate love affairs with both Henry Miller (author of Tropic of Cancer) and his wife, June.


1903 - Surrealist influenced writer Raymond Queneau is born in Le Havre, France. Queneau was the first French novelist to write language the way it was spoken on the street, regardless of syntax and grammar. His book, Exercises in Style (1947), recounts a brief and ordinary encounter on a bus ninety-nine different ways, including prose, free verse, a sonnet, and as a play. His best-known work is Zazie (1959), which was filmed by Louis Malle in 1960).


1907 - Poet W H Auden (Wyston Hugh) is born in York, England. He moved to America in the late 1930s and became an American citizen. He wrote many, many poems and was the librettist for Benjamin Britton's opera Paul Bunyan, as well as for Igor Stravinsky's The Rake's Progress.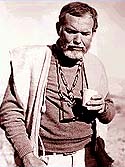 1925 - Film director Sam Peckinpah (The Wild Bunch, Straw Dogs), is born in Fresno, California.



1931 - F. Scott Fitzgerald's short story Babylon Revisited is published in The Saturday Evening Post. Many consider this story to be his finest work.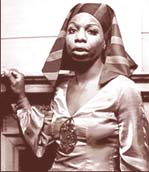 1933 - Cranky jazz chanteuse Nina Simone is born Eunice Waymon in Tryon, N.C.




1943 - David Geffen, Tony Award-winning producer of Cats, M Butterfly, Miss Saigon, Beetlejuice and Risky Business; record executive and President of Geffen Records; partner in Dreamworks film production company with Jeffrey Katzenberg and Steven Spielberg) is born.


1947 - Edwin Land demonstrates a nifty new gadget to the Optical Society of America in New York City. It is the first camera to take, develop and print a picture on photo paper (in black and white) all in about a minute. He called his invention the Polaroid Land Camera. It is an "instant" success.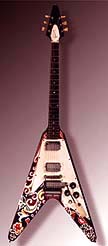 1958 - The very first Gibson model Flying V guitar is shipped from a factory in Kalamazoo, Michigan.




1964 - The Rolling Stones release their third single in the UK. Not Fade Away becomes their breakthrough hit, entering the top 10.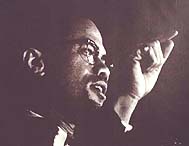 1965 - Black nationalist leader Malcolm X (Malcolm Little) is murdered by Black Muslim assassins as he is about to address a meeting of his Afro-American Unity Organization at a speech at he Audubon Ballroom in New York City. He had broken from the Nation of Islam to found his own Organization of Afro-American Unity. Fifteen hundred people will attend Malcolm's funeral in Harlem at the Faith Temple Church of God in Christ on February 27, 1965.



1966 - The Beatles release their single Nowhere Man.'

1967 - It's Grand Opening night for L.A. club Gazzarri's new location. Proprietor Bill Gazzarri, thrilled with the responses he's received to previous Doors performances, contracts them at the new location to perform 6 nights a week, at 8:15 or 9:15 depending on the day of the week.

1972 - The group known as Climax receives a gold record for their one and only hit, Precious and Few. The LA-based group is led by Sonny Geraci, formerly of the The Outsiders (of Time Won't Let Me fame).

1982 - Murray "the K" Kaufman, who called himself the fifth Beatle (ostensibly because of his role in promoting their first tour) dies at age 60.

For more day-by-day history go to HistoryUnlimited.net