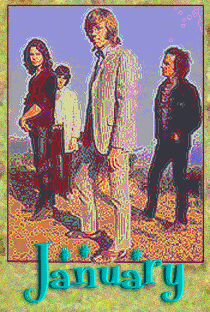 THE FOLLOWING EVENTS TOOK PLACE ON JANUARY 20

1798 - Dorothy Wordsworth's Alfoxen Journal begins: "After the wet dark days, the country seems more populous. It peoples itself with sunbeams." The journal will become a record of her brother's friendship with Coleridge which will result in their Lyrical Ballads (1798), the beginning of the Romantic movement in English poetry.

1885 - A patent for the roller coaster was issued to L. A. Thompson of New York.

1889 - Blues giant Huddie "Leadbelly" Ledbetter is born in Mooringsport, Louisiana.



1920 - Filmmaker Federico Fellini is born in Rimini, Italy, on the Adriatic coast, the son of a prosperous grocer. He developed a love for movies in his town's two hundred-seat theater where, he said, "I discovered there existed another way of life, a country of wide-open spaces, of fantastic cities that were a cross between Babylon and Mars." He was talking about the America he saw on film. He married the actress Giulietta Masina, who later starred in many Fellini films, including La Strada, The Nights of Cabiria, and Juliet of the Spirits. He said that "All art is autobiographical; the pearl is the oyster's autobiography."

1929 - Laugh-In's dirty old man, Arte Johnson is born.

1929 - In Old Arizona is released. It is the first full-length talking movie to be filmed outdoors.

1946 - David Lynch, actor/director (Blue Velvet, Dune, Eraserhead, Twin Peaks) is born in 1946 in Missoula, Montana.

1953 - Johnny "Guitar" Watson makes his recording debut as Young John Watson for Federal records. The records, cut in Los Angeles, feature Watson on piano and guitar. Titles include, No I Can't, Motor Head Baby, Highway 60, and Sad Fool.

1958 - St. Louis radio station KWK finishes its "Record Breaking Week." Orders of station management had all rock & roll music banned from the airwaves. The disc jockeys gave every rock and roll record in the station library a "farewell spin" before smashing it into pieces. The station manager at KWK, Robert Convey, calls the action "a simple weeding out of undesirable music."



1961 - Poet Robert Frost is invited, at the age of 86, to recite a poem for the inauguration of President John F. Kennedy. He was going to recite a poem he had written for the occasion, but his eyes were weak and he had typed the poem on a typewriter with a faint ribbon. The day was bright with a lot of glare from snow which had fallen the previous day. He was unable to read the poem he had written, so he recited his poem The Gift Outright from memory. In his inaugural address on this day, President John F. Kennedy said, "If a free society cannot help the many who are poor, it cannot save the few who are rich."

1964 - The album Meet the Beatles is released in the U.S. on Capitol Records. It's the British group's U.S. debut LP.



1965 - Alan Freed dies of uremia in Palm Springs, California. Freed was the disc jockey who coined the term "Rock and Roll." He played as big a role as any one person in helping to promote the rise of rock & roll and R&B. Unfortunately, he saw his career take a beating in the end by the payola scandals.

1965 - The Rolling Stones and the Kinks make their first appearance on ABC-TV's Shindig! Also appearing are the Dave Clark Five, Petula Clark, Bobby Vee, Bobby Sherman and Gerry & the Pacemakers.

1966 (Date approximate) - Jim and his friends Felix Venable and Phil O'Leno head off to Mexico on a quest to find "true Indians." Inspired by the writings of UCLA professor Carlos Castaneda, the three hope to be initiated into the spirits of peyote. En route, Jim jumps out of the car at an intersection, kisses a Mexican-American woman, and jumps back in the car as they speed off down the road. Jim's good-natured comedic intentions are lost on the woman's male companions who, enraged, run to their car and give chase, eventually catching up with the three friends and beating them up pretty badly. The friends abandon their journey, and start back for home, still possessing enough energy for Jim and Phil to get into a fight over a girl and split up before Jim and Felix head back to L.A.

When they get back, Jim makes up a story about fighting with Phil, accidentally killing him, and disposing of his body in an arroyo. Again, Jim's distorted sense of humor will not pass without consequences,

1968 - This is the second of two nights at the Carousel Theater In The Round in West Covina, CA. While the first night's performance was full of vitality, tonight's is in stark contrast. Jim is extremely intoxicated, and his performance suffers greatly.

1968 - Despite his much rumored falling out with the New York-Cambridge folk singer circle, Bob Dylan joins Pete Seeger, Judy Collins, Arlo Guthrie, Odetta, Richie Havens, Ramblin' Jack Elliot and the Band in commemorating the late Woody Guthrie. This is Dylan's first appearance since his motorcycle accident two years ago.

1988 - The Beach Boys, the Beatles, the Drifters, Bob Dylan, Berry Gordy, Jr., Woody Guthrie, Leadbelly, Les Paul and the Supremes are inducted into the Rock & Roll Hall of Fame during ceremonies at New York's Waldorf Astoria. The festivities were given a bit of color when, during the Beach Boys acceptance speech, Mike Love insulted just about everybody in the music business, including Paul McCartney, Diana Ross, Bruce Springsteen and Mick Jagger.

1993 - Film star Audrey Hepburn dies in Switzerland.

For more day-by-day history go to HistoryUnlimited.net