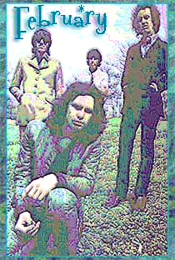 THE FOLLOWING EVENTS TOOK PLACE ON FEBRUARY 14


1843 - According to the poster from which John Lennon took the lyrics, tonight's performance was indeed for the benefit of Mr. Kite. The erstwhile performer was expected to vault over men and horses, hoops and garters, lastly through a hogshead of real fire.



1895 - Oscar Wilde's play The Importance of Being Earnest opens in London. It was a year of great success for Wilde—his play, An Ideal Husband, is also a hit on the West End — but also a year of personal despair. Just 3 months after The Importance of Being Earnest has its premiere, a jury convicts Wilde of "gross indecency" for his romantic involvement with Lord Alfred Douglas, a man 16 years younger than he. Wilde is sentenced to two years of hard labor, which he serves in Reading Gaol—an ordeal that destroys his health. He spends the last 3 years of his life drifting about France and Italy, and writing his long prison poem, The Ballad of Reading Gaol — which is printed in 1898. He dies in Paris, in his room at the Hotel d'Alsace, most likely of meningitis. At the time of his death, he is just 6 weeks past his 46th birthday (1900).

1921 - The literary journal The Little Review faces obscenity charges in New York City for having published installments of James Joyce's novel Ulysses.

1922 - Italian scientist Guglielmo Marconi begins the first regular radio broadcasting transmission from England.

1937 - Blues guitarist 'Magic' Sam Maghett is born in Grenada, Mississippi.

1941 - Brian Holland, producer and songwriter with the legendary Holland/Dozier/Holland team at Motown, is born in Detroit. Among his songs are Please Mr. Postman and Where Did Our Love Go?

1944 - Journalist and author Carl Bernstein is born in Washington D.C. Interested from an early age in journalism, by 22 Bernstein was a reporter for the Washington Post. He and another young reporter, Bob Woodward, checked out a burglary at the Democratic Party's office in the Watergate apartment complex, and traced the involvement of the White House. They were awarded a Pulitzer Prize in 1973, the year before Nixon resigned rather than face impeachment. They went on to collaborate on the best-seller All the President's Men (1974).

1946 - Ernest Hemingway marries his fourth and last wife, Mary Welch in Havana.




1947 - Multi-octaved singer Tim Buckley is born in Washington, D.C. Before his tragic overdose in 1975, he also fathered Jeff Buckley, who went on to develop a devoted following in his own right before drowning at the age of 30.


1957 - Lionel Hampton's only major musical work, King David, makes its debut at New York's Town Hall. The four-part symphony jazz suite was conducted by Dimitri Mitropoulos.

1958 - CBS television newsman Walter Cronkite reports the Iranian government has banned rock & roll on the grounds that it's against the concepts of Islam and also a hazard to health. Iranian doctors have advised the "extreme gyrations" of rock & roll dances are injurious to the hips.

1964 - (date approximate) Jim Morrison transfers from Florida State University to the Theater Arts Department at UCLA. He hitchhikes from Florida to Los Angeles and never looks back. And so it began...

1967 - Is the first of two nights for the Doors at The Whisky a Go-Go in San Francisco, despite the fact that they were originally advertised to perform Feb 4th-19th. The Doors were hired to open for The Peanut Butter Conspiracy, which is the act that most of the small number of people in the club come to see. The Doors make arrangements to be replaced by The Wildflower.

Note: This San Francisco variation on the Whisky had a different approach to presenting live entertainment than it's L.A. counterpart. In addition to the 8PM live music, they regularly featured "Topless luncheon fashion shows and fencing exhibitions." (sounds dangerous!)

Aretha Franklin records her cover of Otis Redding's Respect at Atlantic Studios. It went to number one on the pop chart, and stayed there for 2 weeks.

1968 - Frank Zappa and the Mothers of Invention announce work on two films: Uncle Meat, surrealistic documentary on the group, and a monster movie to be made in Japan
.
1970 - The Doors are invited back to The Allen Theater for an encore show, which is only advertised on that day. They perform one show at 8PM, which was every bit as exciting as the shows the night before.

According to a headline in Billboard, the Recording Industry Association of America is "Mounting Total War Against Tape Pirating of Prerecorded Music."
.

1971 - Richard Nixon installs a secret taping system in White House.

1972 - John Lennon and Yoko Ono begin a week-long stint as co-hosts on The Mike Douglas Show, a talk show for housewives and not known for its radical leanings. Among their guests are Black Panthers President Bobby Seale

1999 - John Ehrlichman, former Nixon White House aide who served 18 months in prison for his role in the Watergate coverup, dies. He was 73.

For more day-by-day history go to HistoryUnlimited.net