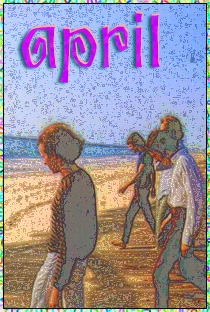 THE FOLLOWING EVENTS TOOK PLACE ON APRIL 8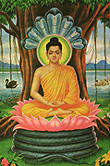 563 BC - Buddhists celebrate the commemoration of the birth of Gautama Buddha, the founder of Buddhism, thought to have lived in India from 563 B.C. to 483 B.C. Actually, the Buddhist tradition that celebrates his birthday on April 8 originally placed his birth in the 11th century B.C., and it was not until the modern era that scholars determined that he was more likely born in the sixth century B.C., and possibly in May rather than April.

1778 - Future United States President John Adams arrives in Paris, France to replace former Continental Congress member Silas Deane as a member of the American commission representing the interests of the United States. Years later, he would fail in his appeals to save the life of Marie Antoinette.

1834 - In New York City, Cornelius Lawrence becomes the first mayor to be elected by popular vote in a city election.



1842 - Elizabeth Bacon Custer, a significant chronicler of the West and the wife of George Custer, is born in Monroe, Michigan.

1888 - Songwriter (E.Y.) 'Yip' Harburg is born in New York City. He would write lyrics for to Brother, Can You Spare a Dime? (1932), April in Paris (1932), and Somewhere Over the Rainbow (1939), among others.



1892 - Academy Award winning actress Mary Pickford is born Gladys Louise Smith. Her films included Coquette, Rebecca of Sunnybrook Farm, Stella Maris, The Taming of the Shrew, Pollyanna and A Poor Little Rich Girl.

1918 - Douglas Fairbanks and Charlie Chaplin sell war bonds on the streets of New York City's financial district. Thousands of people turned out to see the stars.

1920 - Jazz singer Carmen McRae is born in Harlem, New York. At 19 she won an amateur contest at the Apollo Theater on 125th street in Harlem. She was noticed by the wife of pianist Teddy Wilson, who played for Billie Holiday—and so was able to meet her greatest musical inspiration. 'If Billie Holiday had never existed,' she said years later, 'I probably wouldn't have either.'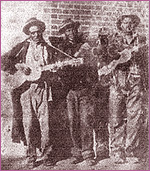 1927 - Peg Leg Howell And his Gang records New Jelly Roll Blues and Beaver Slide Rag for Columbia Records in Atlanta, Ga. (I would have liked to have heard Jim Morrison sing these...;)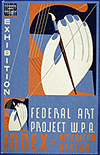 1935 - Congress votes to approve the Works Progress Administration (WPA), a central part of President Franklin D. Roosevelt's "New Deal." In his inaugural address on March 4, 1933, Franklin Delano Roosevelt promised Americans that "the only thing we have to fear is fear itself" and outlined his New Deal–an expansion of the federal government as an instrument of employment opportunity and welfare. The WPA was established under the Emergency Relief Appropriation Act, as a means of creating government jobs for some of the nation's many unemployed. Under the direction of Harry L. Hopkins, the WPA employed more than 8.5 million persons on 1.4 million public projects before it was disbanded in 1943. The program was set up to provide work which would not interfere with private enterprise. The projects included: health and safety programs, cultural programs including art exhibitions and theatrical and musical performances, travel and tourism, educational programs, and community activities. We have the WPA to thank for our system of highways and much of the great art, photography, performance and writing of the time. The WPA was instrumental in establishing the careers of Jackson Pollock, Willem de Kooning, Berenice Abbott, who photographed the construction of the Empire State Building, Dorothea Lange whose photographs of migrant farm workers documented one of the most heartbreaking periods in U.S. history, and thousands more.

1937 - Journalist Seymour Hersh is born in Chicago. Hirsch broke the story of the My Lai massacre in Vietnam.

1947 - Original Yes guitarist Peter Case is born in England. Amazingly, Yes' most legendary string-bender, Steve Howe, is also born today in London.



1953 - The bones of Sitting Bull are moved from North Dakota to South Dakota.

1955- Novelist Barbara Kingsolver is born in Annapolis, Maryland. She would grow up in rural Kentucky. After graduating from DePauw University in 1977, Kingsolver worked in Europe, then returned to the U.S., where she worked as a biologist and freelance journalist. Her first novel, The Bean Trees, was published in 1988, followed by Animal Dreams (1990) and Pigs in Heaven (1993). All three explore such social and political issues as feminism, environmentalism, and Indian tribal rights through stories about struggling women in the American Southwest.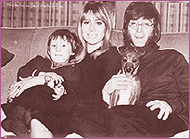 1963 - Julian Lennon is born in Liverpool, England, to Cynthia and John Lennon. He is the first Beatles' offspring.

1968 - The Beatles go gold again, receiving a gold record for the single Lady Madonna.

1973 - Neil Young's docu-autobiography, Journey through the Past, premieres at the US Film Festival in Dallas. Young is typically ambiguous when describing the film, a bunch of scenes and images throughout his career: 'It's a collection of thoughts. Every scene meant something to me...although with some of them I can't say what.'

1974 - Hank Aaron hits his 715th home run, breaking Babe Ruth's record.

1975 - The Godfather: Part II wins half of the top six awards at the 47th Annual Academy Awards at the Dorothy Chandler Pavilion in Los Angeles.

1986 - Actor Clint Eastwood is elected mayor of Carmel, California. The legendary actor would serve as Mayor until 1988.

1994 - Nirvana lead singer Kurt Cobain is found dead 3 days after an apparent suicide at his Seattle home. He was 27.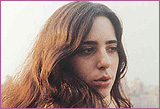 1997 - Super songwriter Laura Nyro dies of ovarian cancer at 49. Among the songs penned by Nyro are Stoned Soul Picnic, And When I Die, Stoney End, Sweet Blindness, Wedding Bell Blues and Eli's Comin'.

1998 - The widow of Martin Luther King Jr. presents new evidence in an appeal for new federal investigation of the assassination of her husband.


For more day-by-day history go to HistoryUnlimited.net