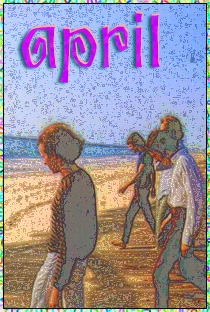 THE FOLLOWING EVENTS TOOK PLACE ON APRIL 7


1712 - Twenty-three enslaved blacks revolt in New York City, setting fire to a building on Maiden Lane near Broadway. While white colonists try to put out the fire, the slaves attack them and ran off. Nine whites are shot, stabbed, or beaten to death and six other whites are injured. In the aftermath of the rebellion, seventy blacks are arrested and put in jail. Six are reported to have committed suicide. Twenty-seven are put on trial, twenty-one of whom are convicted and sentenced to death. Twenty are burned to death and one is executed on a breaking wheel, a form of punishment no longer used on whites at the time.

1770 - English poet William Wordsworth is born in Cumberland, England. He had the ability to compose from memory, even long poems, such as Tintern Abbey, which was composed entirely in his head during a long walk with his sister one afternoon. Together with Samuel Taylor Coleridge they published Lyrical Ballads, with a Few Other Poems in 1798, launching the Romantic movement. Though most of his work was written early in his career, his stature grew steadily, and in 1843, he was named poet laureate of England. He died in 1850, at the age of 80.

1775 - Samuel Johnson, dining at a tavern with companions declares, 'Patriotism is the last refuge of a scoundrel.'

1776 - Navy Captain John Barry, commander of the American warship Lexington, makes the first American naval capture of a British vessel when he takes command of the British warship HMS Edward off the coast of Virginia. The capture of the Edward and its cargo turned Captain Barry into a national hero and boosted the morale of the Continental forces.

1868 - Thomas D'Arcy McGee, long associated with The Nation, the Young Ireland political movement publication calling for the study of Irish history and the revival of the Irish language, is assassinated in Ottawa. Selections of his work will appear in two edited collections: The Poems of Thomas D'Arcy McGee (1869) and D'Arcy McGee: A Collection of Speeches and Addresses (1937).

1888 - P.F. Collier publishes a weekly periodical for the first time. Collier's would become the publication's name at a later date. The magazine was popular for 69 years.

1891 - American showman Phineas Taylor Barnum dies in Bridgeport, Connecticut. Though he was gravely ill, the 81-year-old showman's sense of humor hadn't deserted him. He requested that a New York paper run his obituary before he died so he could enjoy reading it, and the paper obliged.

1897 - Journalist and radio broadcaster Walter Winchell is born in New York City. At one time he was the most widely read and listened to columnist in the world, with a radio broadcast that started out with the words, 'Good evening Mr. and Mrs. America—from border to border and coast to coast, and all the ships at sea.'

1908 - Grammy Award winning orchestra leader, composer and arranger Percy Faith is born. You might recall his works The Theme from A Summer Place, My Heart Cries for You, Delicado, Song from Moulin Rouge and the Theme for Young Lovers

1915 - Singer Billie Holiday is born in Baltimore under the more prosaic name of Eleanor Gough. Put a dahlia in her hair, though, and she was a star. She started out singing in Harlem, in little clubs: Mexico's, The Hot Cha Cha Club, and the Shim Sham Club. Then she was discovered by jazz promoter and producer John Hammond, who arranged for her to record with Benny Goodman, Teddy Wilson, Ben Webster and Roy Elldridge. She was posthumously given a Grammy Lifetime Achievement Award in 1987 and three of her recordings receive Grammy Hall of Fame Awards: Strange Fruit (1939 recording), God Bless the Child (1941) and 'Lover Man (Oh, Where Can You Be?)' (1945). She wrote an autobiography, titled Lady Sings the Blues (1956), which was later made into a movie..

1915 - Critic Alexander Woollcott takes the management of the Shubert theaters to court after they ban him from their productions for 'rancor and malice and venom.'

1920 Sitar master Ravi Shankar is born in India. Among others, he would teach George Harrison to play sitar. He performed at Woodstock and the Concert for Bangladesh.

1927 - The first long-distance TV transmission is sent from Washington, DC, to New York City. Secretary of Commerce Herbert Hoover reads a speech in Washington, D.C., which is transmitted to Bell Telephone Laboratories in New York City, where an audience views a tiny televised image of Hoover, less than 3 inches square.

1930 - The first steel columns are set for the construction of the Empire State Building.

1931 - Author Daniel Ellsberg is born. He would single-handedly change history by releasing Pentagon Papers to the NY Times.

1933 - The 21st amendment is finally ratified and Prohibition is, at last, over. There is much rejoicing by those who felt the Blues go so much better with a cold beer.

1937 - Rhythm-and-blues singer Charlie Thomas of The Drifters is born.

1938 - Jazz trumpeter Freddie Hubbard is born in Indianapolis, IN. He played mellophone and then trumpet in his high school band, going on to study at the Jordan Conservatory. Making a move to New York, and jazz at the age of 20, he astonished all who heard him with his level of skill and maturity. His debut on Blue Note Records in 1960 was followed in quick succession by several more albums, including the August 1962, recording of what many feel to be his masterpiece, Ready For Freddie.

1938 - Spencer Dryden, who played drums with Jefferson Airplane, is born in New York.

1939 - Academy Award winning film director Francis Ford Coppola is born. His legendary motion pictures include The Godfather series, Apocalypse Now and Finian's Rainbow.

1940 - Booker T. Washington becomes the first black to be pictured on a U.S. postage stamp. His likeness is issued on a 10-cent stamp this day.

1943 - Blodwyn Pig and Jethro Tull guitarist Mick Abrahams is born.

1946 - Bill Kreutzmann, drummer with the Grateful Dead, is born in Paol Alto, CA.

1949 - Singer/songwriter John Oates is born. He is best known as half of the blue-eyed soul group Hall & Oates, whose hits include She's Gone, Sara Smile, Rich Girl, I Can't Go for That, Private Eyes and Maneater.

1951 - Grammy Award winning singer/songwriter Janis Ian is born Janis Fink. Her hits include At Seventeen and Society's Child.

1952 - Bruce Gary, a drummer for the unusual triumvirate of Spirit, the Knack, and Lonnie Donegan, is born in Burbank, Calif.


1954 - President Dwight D. Eisenhower coins one of the most famous Cold War phrases when he suggests the fall of French Indochina to the communists could create a "domino" effect in Southeast Asia. The so-called "domino theory" would dominate U.S. thinking about Vietnam for the next decade.

1954 - The tune Gee by The Crows becomes the first rhythm and blues single to gain attention on pop music charts. Written by William Davis, the baritone of The Crows, the song made it to #17 on the pop music chart and stayed for one week. This was also one of the first songs by a black group to be played on white radio stations.

1956 - The CBS Radio Network premieres the first regularly scheduled national broadcast rock & roll show, 'Rock 'n Roll Dance Party,' with Alan Freed as host.

1962 - Mick Jagger, Keith Richards, and Mick Taylor meet Brian Jones at an Alexis Korner gig at the Ealing Club, a London hangout for those who like the blues. Jones soon has bigger plans for the Glimmer Twins' band, Elmo Lewis. And the rest, as they say, is history.

1966 - The Jefferson Airplane perform at a concert to honor the Russian poet Andri Vozneskensy at San Francisco's Fillmore.

1966 - The U.S. recovers a hydrogen bomb it had lost off the coast of Spain. Uh...Whoops...

1967 - In San Francisco, KMPX becomes the first 'progressive' FM rock station.

1969 - John Lennon records Give Peace a Chance in his Toronto hotel room. It becomes his first solo single.

1969 - The U.S. Supreme Court unanimously strikes down laws prohibiting private possession of obscene material.

1970 - The first printing of the cloth bound edition of The Lords and The New Creatures is published by Simon and Schuster, under the name James Douglas Morrison.

1970 - No. 1 Billboard Pop Hit is 'Let It Be' by The Beatles. The song enters the Hot 100 at No. 6, higher than any previous entry on Billboard's pop singles chart.


1971 - U.S. President Nixon pledges to withdraw 100,000 more men from Vietnam by December.

1975 - North Vietnamese forces prepare to launch the "Ho Chi Minh Campaign," designed to set the conditions for a final communist victory in South Vietnam. By this time, well over two-thirds of South Vietnam is under communist control as South Vietnamese forces had fallen back in panic when the North Vietnamese pressed the attack.

1983 - Specialist Story Musgrave and Don Peterson make the first Space Shuttle spacewalk.

1987 - After preacher Oral Roberts informs his TV congregation that God will kill him if he doesn't raise $1 million in donations, rock funnyman Ozzy Osbourne sends him a dollar to be put toward psychiatric treatment.


1988 - In Fort Smith, AR, 13 white supremacists are acquitted on charges of plotting to overthrow the U.S. federal government.

1988 - Alice Cooper nearly hangs himself for real at a concert rehearsal when a safety rope breaks.

1989 - A Soviet submarine carrying nuclear weapons sinks in the Norwegian Sea. Could this be the Red October?

1990 - Farm Aid IV is held at the Indiana Hoosierdome. Performers include Neil Young, Kris Kristofferson, Willie Nelson, John Mellencamp, Guns N' Roses and Jackson Browne. Elton John dedicates Candle in the Wind to AIDS patient Ryan White during the show. White dies later that night.

1990 - At Cincinnati's Contemporary Arts Center an exhibition of Robert Mapplethorpe's photographs opens. On the same day the center and its director are indicted on obscenity charges. The charges resulted in acquittal.

1998 - Sonny Bono's widow Mary wins a special election to serve out the remainder of her husband's congressional term.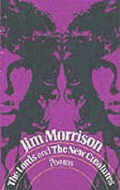 History Spotlight: The Lords & The New Creatures is published -

After a night out in London with Jim Morrison, poet Michael McClure woke up first the next morning, pretty hung over, and started poking around the apartment looking for something to read. He found Jim's poetry manuscript. This is what he had to say about the experience:

'I sat down and read it and thought, holy smoke, this is fantastic, and I was just sort of like ragingly delighted to find such a beautiful first book of poetry ... It's perfectly obvious in reading this book that Jim already had his own style and that he was already his own person. As to his potential for growth - well, he started out so good that I don't know how much better he could've gotten. He started off like a heavyweight. When Jim came down later, I told him what I thought, and we talked about it a bit, and he was interested in what to do with it. He wanted to be known as a poet, he didn't want to be ... in other words ... Jim was very serious about being a poet, and he didn't want to come in on top of being Jim-Morrison-the-big rock-singer...'

With Michael's encouragement, Jim was able to secure his publisher, who treated his work in the serious manner which it deserved, without using his rock star status to promote the book. The Lords & The New Creatures, by James Douglas Morrison was published by Simon & Schuster on April 7, 1970.

'Later, when the book had been published and the first copies arrived by mail in L.A., I found Jim in his room, crying. He was sitting there, holding the book, crying, and he said, 'This is the first time I haven't been fucked.' He said that a couple of times, and I guess he felt that that was the first time he'd come through as himself...'

Congratulations, Jim!

Read more about the poetry of James Douglas Morrison

For more day-by-day history go to HistoryUnlimited.net