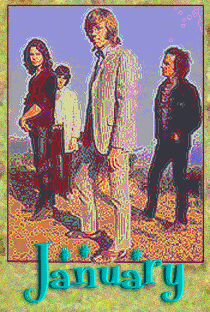 THE FOLLOWING EVENTS TOOK PLACE ON JANUARY 12

1876 - Writer John Griffith (Jack) London is born in San Francisco. By the age of 14, he was supporting his family by raiding oyster beds and selling the stolen oysters to markets in San Francisco. As a teenager, he went to sea on a seal-hunting vessel, and in 1897, he set out for Alaska in search of gold. Instead, he found a range of experiences which he crafted into stories. His first big success came in 1903, with the publication of The Call of the Wild. It was followed by The Sea Wolf (1904), White Fang (1906) and the autobiographical novel Martin Eden (1909). He wrote fast and drank hard, managing to spend most of the money he earned as the highest-paid writer in the United States as quickly as he got it. He bought a ranch in California and built a huge mansion on the property. Late in his life, London said: "I write for no other purpose than to add to the beauty that now belongs to me. I write a book for no other reason than to add three of four hundred acres to my magnificent estate." Nonetheless, he considered himself a socialist.

1899 - Oscar Wilde writes to Robert Ross that "Henry James is developing, but he will never arrive at passion, I fear."

1936 - American poet and publisher A. D. (Allan Davis) Winans is born in San Francisco. In 1971 he founded Second Coming Press, which made a name for itself by publishing the poetry of Charles Bukowski and other beat writers.



1941 - English bluesman Long John Baldry is born in London. He gave both Rod Stewart and Elton John their first breaks in the music biz by employing them to play in his band. Elton John took his name in honor of Long John.

1965 - Hullabaloo premieres on NBC TV. Featured acts include host Jack Jones, the New Christy Minstrels, comedian Woody Allen, actress Joey Heatherton and a segment from London in which Brian Epstein presents the Zombies and Gerry and the Pacemakers.

1968 - The Doors' second album, Strange Days goes gold. Highlights are People Are Strange, Love Me Two Times, Moonlight Drive and When the Music's Over.

1971 - Norman Lear's groundbreaking show All in the Family airs for the first time. The show was originally called Those Were the Days and was based on the British sitcom Till Death Us Do Part. It aired until 1983. Among its innovations, the series premiered the toilet flush on American TV.

1986 - In San Francisco, California, Beat poet Bob Kaufman dies, still silent after many years of vowed silence.

1993 - The Doors are inducted into the Rock and Roll Hall of Fame, along with Cream, CCR, Van Morrison, Sly and the Family Stone, Frankie Lymon, Dinah Washington and Etta James. The original members of Cream reunite to perform at the ceremony.

1995 - The Allman Brothers Band, Al Green, the late Janis Joplin, Led Zeppelin, Martha Reeves & the Vandellas, Al Green, Neil Young, the Orioles and the late Frank Zappa are inducted into the Rock and Roll Hall of Fame.

For more day-by-day history go to HistoryUnlimited.net